Liz Lautrup
Creating Art, Creating Meaning
Artist Statement
Creating my abstract paintings is a mysterious and mystical process, based in the reflections of the world around me, and a deep need to give voice to universal, deep and lasting truths. As I start sweeping water-suspended pigment onto the surface, I "let go" and allow myself to be guided through the process of mark making, desiring to pour my soul in to my paintings. Some of these paintings take mere days to finish whereas others may take years to complete. They contain many layers, mimicking the layers of time passing, leaving its marks on the world, and on our being. Circles often make appearances in my artwork, representing the energy in the world, and lines appear as a metaphor for the passage of time and the meandering journey of life. With the swirling together of shape, line, and luminous layers of color, a strong dreamy feeling exudes from each painting, inviting an emotional connection with the viewer.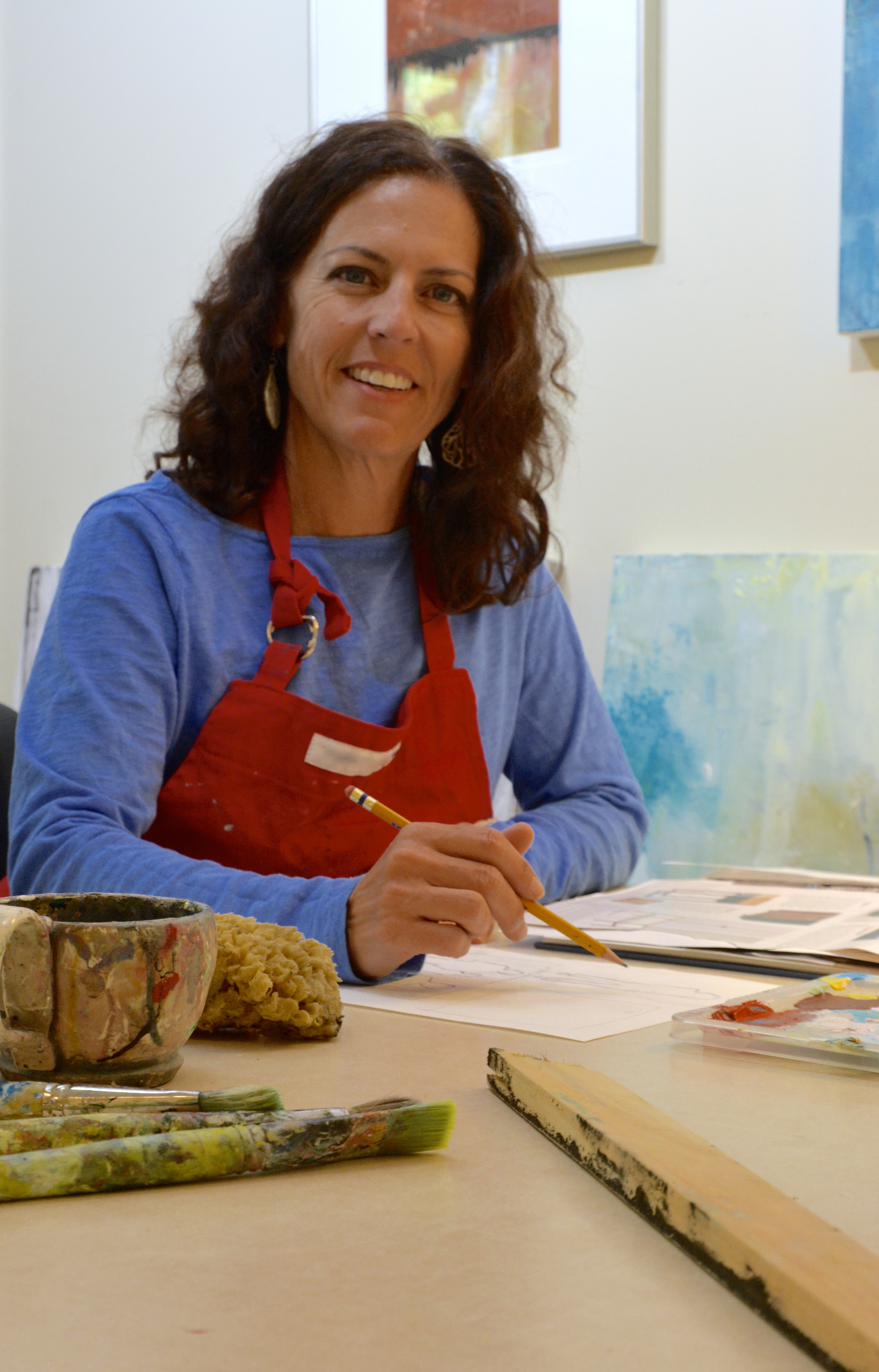 Biography
Liz Lautrup is an Abstract Artist who has been obsessed with beauty, nature, and painting since she was a young child. While growing up in New Jersey, she studied painting with famous painter John Osborne during Middle school. John made a great impression on her with his artistic talent, passion for art and nature, and instilling in her the belief that she could make a living doing her art. She went on to study Studio Art at Hamilton College in New York State. Here she discovered ceramics, figure drawing and more painting. Liz fell in love with free form ceramics which began fostering her love of Abstract thinking. After a corporate career and birthing two children, she experienced health issues and a spiritual wake-up call which led her to her intuitive painting process.
Liz is a proud member of SYNC Gallery in Denver Colorado and has found herself, in the last six years, exhibiting in numerous solo shows, and completing many commissioned paintings.
Currently she is completing paintings for clients, and creating new, big, artworks for her next upcoming show.
Resume
CURRENT REPRESENTATION 

SYNC Gallery, Denver, CO

Lewis Art Consulting, Denver, CO

Jan. 2016 – present

April, 2018 – present

SOLO EXHIBITIONS

Jan. 2015-Dec. 2016

 

Jefferson Unitarian Building,
Golden, CO

April 2012

 

Ohm Acupuncture,
Wheat Ridge, CO

June 2010

EXHIBITIONS

Featured Artist at Campbell Law Firm, Denver, CO
Solo staging project for Real Estate
Agent Nikki Ragonese, Golden, CO
Two-person Exhibit, Deeply Rooted at SYNC Gallery, Denver, CO
Two-person Exhibit, Markings and Essence at SYNC Gallery, Denver, CO
Two-person Exhibit, Voices Filled with Listening, EDGE Gallery, Denver, CO
Three-person Exhibit at Genesee Town Center, CO
Solo Exhibition, Grand Salon Denver
Solo Exhibition, Jefferson Unitarian Church, Golden CO
Solo Exhibition, Ohm Acupuncture, Wheat Ridge, CO

July-Nov 2018

July-Aug, 2018

March/April 2018

Jan. 2017

Jan. 2016

Nov. 2016

Dec-Feb, 2016
Summer 2012

June 2010

OTHER ART ACTIVITIES

Media/Newsletter Director,
SYNC Gallery, Denver, CO
Coordinator of Group Art Project (large painting) for Auction at Friends of the Haven House, Denver, CO
Art Student's League Summer Art
Market, Denver, CO
Founder and Curator of Maple Grove Elementary School's Grove Gallery, Art show, Golden, CO
Co-Curator for Open Show at EDGE Gallery, Denver CO

Jan 2016 to Present

March, 2016

June2014 and June 2015

Feb. 2013 and 2014

Aug.-Sept. 2016

HONORS

Artwork showcased for Marketing Photo shoot for Grand Salon, Denver, CO

Dec. 2015

COMMISSIONS

Over 20

Homes in Denver and New York Metropolitan area, Merrill Lynch Cherry Creek, CO Offices, and Forte Music Studio, Arvada, CO

2012-Present

TEACHING

Adult Instruction in Abstract Painting on Clay Tiles, Liz Lautrup Studio, Golden, CO

Jan. 2012
Education
Liz Lautrup studied Studio Art at Hamilton College (NY, 1989), at the University of Pennsylvania (1992), and at the Fleischer Art Memorial in Philadelphia, and continues creating at The Art Students League of Denver and in her studio in Golden, Colorado.
Current Representation
SYNC Gallery, Denver, Colorado
Lewis Art Consulting, Denver, CO
Contact Liz Lautrup
Interested in a specific painting or a commission project? I would love to hear from you.
Contact me by email at lizlautrup4art@gmail.com or by phone at 720-635-3666.
Email Newsletter
Interested in hearing more about my work? I invite you to sign up for my e-newsletter!