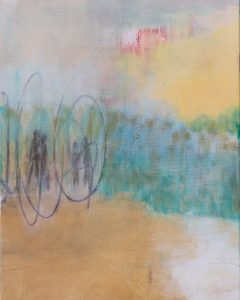 Hello!
It's always such a special feeling when someone finds my work has spoken to them so I was so happy to deliver "What is Waiting For You" (paintings from the last show) to the home of new collector, Nicole Tedstrom, who resonated with the message. She's created a wonderful space and the paintings found a great spot where she can see them from her kitchen and remember that there are beautiful, positive things just around the corner, if you are willing to embrace them.
With the Spring, there have been some new sprouts of growth in my studio practice.
One of the coolest things that's happened since the show at SYNC is that Barbara, of Lewis Art Consulting, came by the Gallery and later presented my artwork to a client who has chosen my work to don the walls of a large corporate re-model just south of Denver. Not only am I absolutely thrilled to be commissioned to do some very large pieces for this client, but I am honored to be working with Barbara Lewis and her team. Barbara is a wonderful person with a fantastic, successful business placing artwork around the Denver area and beyond.
Also coming out of the last show, I received several individual commissions – such an exciting challenge for me. A pair of commissions is almost complete and will be gracing a home in the Sixth Avenue Estates area in Golden. I have all the other large canvases ready and waiting to become new creations for the other three clients.
In addition to these projects, I have set myself the goal of creating 12 or more large masterpieces on canvas by September 2018 so I'll keep you posted as the work progresses. It feels good to have goals and the creativity is flowing. I am truly grateful each day for the opportunities and wonderfulness all around.
Giving Back
As some of you know, I have been involved with an organization called Friends of the Haven, (https://www.havenfriends.org) that is helping those hit by the opiate crisis. I am planning to collaborate on an art project with some of the women in recovery there, in order to bring more awareness to the organization. I have also begun getting involved in the Retriever Rescue of Colorado (RROC), the organization where my rescue doggie, Pogo, came from. I am absolute sucker for dogs, as all my good friends know. RROC is always in need of foster homes and transport for the dogs to Colorado (we Coloradans must be the BEST dog adopters in the country!) so if you or anyone you know would be able to foster any dogs, please go to https://retrieverrescueofcolorado.com/foster-information
Best wishes to you!
Liz
Liz Lautrup Fine Art
www.lizlautrup.com