Trying something Different… using black lines to make trees. Don't miss the "Name That
Painting Party" in February – See details below!
How did YOU feel during the election? Wow I really felt the stress of everyone around me and I am glad it is over.
During that time, I was really having a hard time getting inspired to paint. I made myself paint to get through it, though I didn't make much I liked.
I was STUCK.
I am never really sure why this Creative Block hits, but it usually hits a couple of times a year. Sometimes, a block is trying to
tell you something. Sometimes it means you are on the verge of a transition or something big.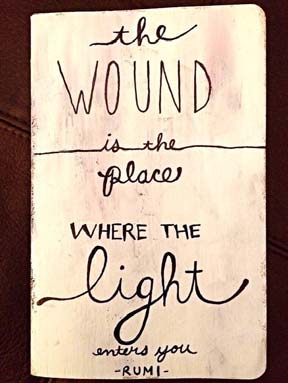 Rumi Says: The Wound is the Place where Light enters you.
Perhaps Creative Blocks show up to show us some light we need to see.
I HAVE gotten UNSTUCK since then and I wanted to share with you the five things things that helped me get unstuck – they may be able to help you too.
1. Take a rest or have some quiet time – this can help you re-group and tune into your deeper self
2. Take a walk in Nature or exercise – always stirs the creative juices and helps you 'let go' of stress and blockage
3. Find inspiration – I am always inspired by artwork from my favorites (Madeline Denaro, Clyfford Still, Franz Kline, Jane
Davies) and find some great inspiration on Pinterest – find abstract art at https://www.pinterest.com/lautrupdlj/art/
4. Try something totally different or work in a different medium- sometimes I draw, sometimes I get into some clay
5. Keep working and work without expectation – try not to try too hard. This goes against most of what we learn in our culture. Trying too hard is probably MY most common mistake. The next book I'm going to read is "Trying Not To
Try: The Art and Science of Spontaneity" by Edward Slingerland
An article that helped me understand and cope with Creative Blocks: http://99u.com/articles/7088/7-types-of-creative-block-andwhat-to-do-about-them
COMING UP
February 12th Sunday
"Name that Painting" Party at my home.
I hope you will come and help me name a few of my new paintings and see my new work.
APRIL 21st Friday
Art Opening with my NEW WORK at the new Gallery I'm in. Come before or after dinner. Starts at 6:30 pm.
SYNC Gallery 931 Sante Fe in Denver. http://www.syncgallery.com/
Happiest of Holidays to ALL! Jingle Jingle! Enjoy the Season and Wishes of Love and Peace to you.