Show at SYNC Gallery
Hope this newsletter finds you well. My show at SYNC Gallery was dismantled last Saturday afternoon to make room for other artists' work. It's always a mix of feelings when my show comes down but I was so incredibly happy with the wonderful Opening we had with so many great friends, and with First Friday, which was such a blast!
A huge thank you to everyone who came. A few paintings found great homes as a result of the show. I always love placing my work in homes or businesses where they will be loved and enjoyed. I have updated my website with the new paintings from the show so if you were not able to come to the Gallery when my show was up, check out www.lizlautrup.com.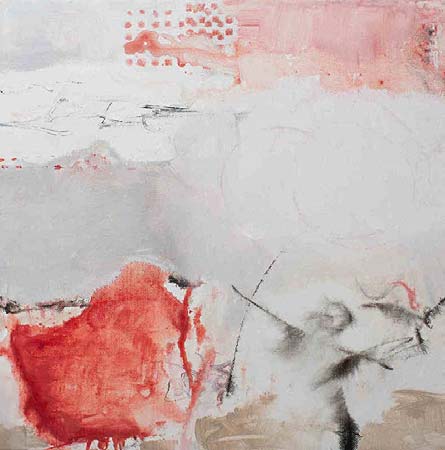 Japanese Lovers, triptych, looks beautiful in Anne's home in Arvada.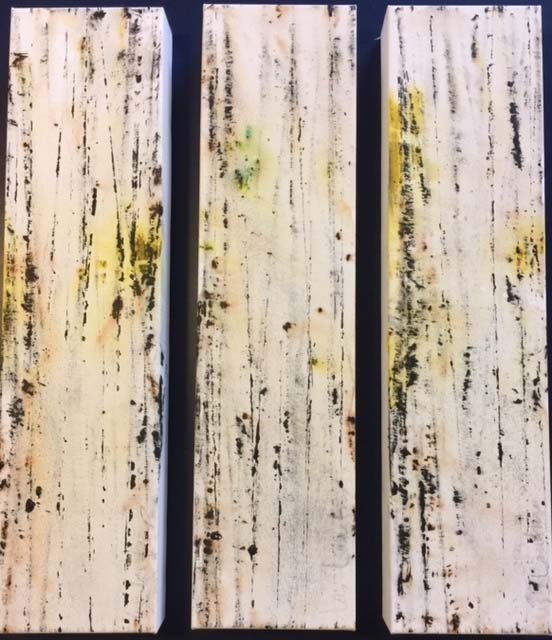 Old Bark found a wonderful home.
It was a successful show and I was on such an energy high while it was up. The one-week rest I was planning to take afterward was interrupted by the crazy, baseball sized hail storm that hit our neighborhood (cracked car windshield and need a whole new roof), and it is time to move on to some really necessary and fun projects, like getting out of my cave-like studio and creating a new website.

My old, cramped studio that will soon become storage space. Getting out of the Cave!
My old, cramped, basement studio has begun to feel like a cave so I am moving it to another, more airy room in my basement.
I am so excited to have more and much-needed space and light to paint in… and to have a new, welcoming space for visitors like
you.

My future studio will have more space and natural light. As you can see, there is a lot of organizing to be done.
New Website to Come!
My website has needed improvement for quite a while. Plans are in the works for a new one so if you have any changes that you would like to see from my old one, please let me know. This project will take a few months.
New Work to Come!
I already have so many ideas brewing for my next series of paintings and cannot wait to get started on them. I am in search of a venue for my work in the Fall, so if you know of a nice, large space in a Salon or office building where my work would fit, please let me know.
Until next time, take good care!
Liz Lautrup
Liz Lautrup Fine Art
www.lizlautrup.com